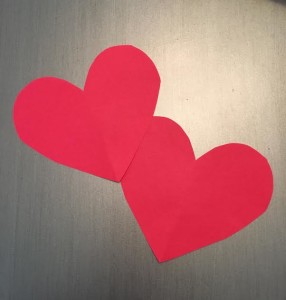 My wife and I don't really celebrate Valentine's day.  Why?  Because we refuse to be owned by Big Greeting Card and Big Candy.  Also, we are so romantic during the rest of the year, that by the time this day rolls around, we are exhausted.  However, I would just like to say that we are not above buying the candy when it is marked down 50% tomorrow.  Without further ado, longwalkabout presents:
AN ABRIDGED AND SLIGHTLY INACCURATE HISTORY OF VALENTINE'S DAY
Valentine's Day is named after Saint Valentine of the early Christian church.  There were actually multiple Saint Valentines.  Two of them came to be honored on the 14th of February.  Valentine of Rome and Valentine of Terni.  Although they lived two hundred years apart, they had a few things in common.  The Roman's whacked both of them.  This made them both martyrs.  Seeing the obvious tourist value of martyr body parts, the early church saved what they could.  Valentine of Rome's skull is on display in Rome.  If you'd like to take a romantic trip to Terni, you can view the entire remains of Valentine of Terni.  Keeping score?  That would be Romans 2 – Valentines 0.
Valentine's Day didn't become associated with romance until the late 1300's.  Whose fault was it?  By all accounts, it was the poet Chaucer, who wrote this fantastic ditty.
"For this was on seynt Volantynys day
Whan euery bryd comyth there to chese his make."
This poem was written to celebrate King Richard the 2nd and Queen Anne's first anniversary.  It also appears to have been written when Chaucer was on a bender.   Who do you think noticed this "love poem" and ran with it?  That's right, the French, who basically own love.  Their national motto is "Get Busy Lovin' Or Get Some Cheese.  On Second Thought, You Can Do Both At The Same Time.  Now Have Some Cake."  I know.  I thought their motto would be more poetic too.  Maybe something gets lost in translation.
Fast forward to the late 1700's.  The printing press is now in use.  This is the beginning of what I like to call the "Greeting Card Industrial Complex", which as far as I can tell, has always been run by a James Bond villain.  The printed valentines and the post office make it possible for people to send cards to each other anonymously, thus giving rise to the naughty Valentines card industry as well.  By 1835, the number of Valentine cards mailed yearly in the U.K. reaches 60,000.
Today in the U.K. 1.3 BILLION pounds are spent every year on greeting cards and other assorted Valentine's day stuff.  The US Greeting Card Association, otherwise known as "The Shoebox Mafia", reports that if you include all of the cards that our kids are extorted into making or buying for their classes at school, 1 billion Valentine's Day cards are exchanged each year in America.  In 2013, people spent an average of $131 on Valentine's gifts.  This is why Hallmark employees exchange "poor hopeless sucker" cards every year on February 15th.
As Paul Harvey used to say.  "Now you know some partially accurate information about the rest of the story."
Happy Valentine's Day
LINKS