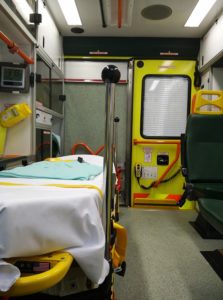 The car was in the middle of the grass median of a four lane highway.  It was upside down.  That was the first clue that something was wrong.  Some good citizen had called 911.  In those days, sometimes when you called 911, you got me.  Scary, right.  This guy didn't just get me.  Our ambulance rolled up along with fire and rescue trucks and paramedics.  My partner and I jumped out, grabbed a few things and headed to the car.  I was the first one there.
It was the end of a 12 hour overnight shift.  This had been an unusually busy shift at our small rescue squad.  We had just gone paid, so every call we got meant another fat twenty dollars in my pocket.  Chaching.  Most nights I spent there were boring.  We watched TV and eventually fell asleep on the couches at the station.  That night though, we had already been on five calls.  Backing up the fire department at an alarm call, several other nonsense calls, and a motorcycle accident on the highway that they had to bring a helicopter in for.  (Standing in the middle of a closed down highway while a chopper lands on it is an experience)
Now I was standing in the median of that same highway staring at the open drivers side window of an upturned sedan.  This was the first time I had been the initial responder to a call like this.  Sticking out of the window was an arm.  Usually you can follow an arm to a person.  Fingers lead to hands lead to forearms lead to upper arms lead to shoulders and on to a torso.  My eyes scanned this arm from fingers to hand to forearm to some tendons and nerves that barely held it to the person in the car.  I dropped to my knees trying to avoid a surprisingly small amount of blood so I could get a better look.  There, hanging upside down in the seat was a fully conscious guy staring right back at me.  It was totally surreal.  I blurted out a couple of questions to try to judge his level of consciousness and if there were any other injuries.  The medics came up behind me and basically said, "No time for this, we gotta go."  It happened so fast.  The belt was cut.  The guy was extricated from the car.  We were in the ambulance.  All the while, the guy was completely aware of what was going on.  I remember him having a conversation with the paramedic on the way to the hospital about the likelihood of his arm being saved.  His body was in shock, but his mind was functioning quite well.  We are fearfully and wonderfully made.
Ninety nine percent of my time as an EMT was mundane.  As an acquaintance of mine used to say, "Hours of boredom interrupted by moments of horror."  But this experience was formative.  What did I learn from it?
Life is unpredictable.
If you get tired while you're driving, it's better to pull over for a nap than to wake up from a nap in the median.
Got something you want to do?  Don't wait.  I mean, what if this guy always wanted to enter an arm wrestling competition?
Unless your health or loved ones are threatened, life is seriously ALL SMALL STUFF.  Laugh at it all the time.  Be happy.  Most problems are hilarious when you look back at them three months later anyway.  Might as well laugh at them while they're happening.  It is a parade of absurdity.  And if you don't agree, then tell me why Vin Diesel just confirmed that there will be a Fast and Furious 8, 9, and 10.  Absurd.