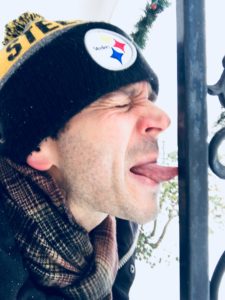 It's going to be so cold here this weekend that I'm considering adding extra insulation to my basement windows. All of this seems completely unnecessary. The cold, the snow, winter in general. Winter has to be one of the worst things about the fall of mankind. Winter and t-shirts that aren't tagless. I don't think there was any winter in the Garden of Eden. There may be something legitimately wrong with people who like the cold. I could be mistaken about this, but if we all got together and paid for every eskimo to take a Caribbean vacation, I bet only twenty percent of them would return home. Half of that twenty percent would only be going back to get their pets. The other half are just psychopaths like people who prefer black coffee. When I go off about this subject my wife will undoubtedly say something wise like, "It takes all kinds of people to make up the world." Begrudgingly I have to admit that, in some areas, she's right about this. I mean, there have to be some people who like weird things, otherwise the bottom of my freezer drawer would be full of orange popsicles forever.
As I sit here bundled up, I'm looking out the window and wishing that I could hibernate like a bear. Seriously, do you know how skinny I'd be when I woke up in the spring? Right in time for swimsuit season amiright? One of the things I do to deal with the fact that I can't hibernate is listen to lots of music. All kinds of music. I enjoy finding a new band and listening to them until I've literally driven them into the ground like I did our first Subaru Outback. (If I'd only changed the timing belt I might still be driving that thing.) Music is an area where my wife's wise "it takes all kinds" point is definitely true. I've reached the point in this rambling post where I will drop some good advice of my own. Music is completely subjective. Never read anything written by a music critic. Listen to the music. If you like it, like it. Dave Grohl once said, "I don't believe in guilty pleasures, you know. I believe you should be able to like what you like." He's right. And I don't even like the Foo Fighters. It takes all kinds of people to make the music world go round. Most art is like this. Subjective. (Except for modern art which is complete and utter nonsense.) It's healthy to form your own opinions about music and how it makes you feel.
In Conclusion.
If you prefer the cold, you are still probably a psychopath just like people who don't watch sports.
Music is a good way of passing these dreary days.
Don't let anyone tell you what kind of music to like.
Orange popsicles are kind of gross.
Wegman's Romano is my new favorite shaky cheese.
My wife is wise.
Whew. There was a lot in there today. Now I'm going to sit by the fire with my coffee and listen to Taylor Swift, Metallica, John Denver, Mandy Moore, Def Leppard, P.O.D., Good Charlotte, and Bob Seger. In that order.