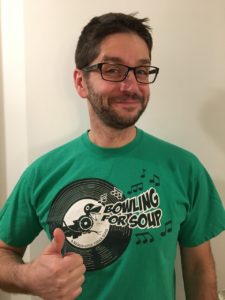 In the past, I've told my wife that rock music forgot how to have fun on or around September 24, 1991, the date that Nirvana released Nevermind.  Also in the past, my wife has looked at me with pity because she thinks I've put way too much thought into this.  I don't listen to her though.  You simply can't trust anyone who drives to work with the radio off.  Seriously though, Nirvana helped put a stake in the heart of one of the most fun eras of rock music, and I'll never forgive them for that.  Thanks to them, throughout the 90's and early 2000's almost everyone's cd changers were "full of singers that are mad at their dad."  As Kurt Cobain reminded us in April of 94, you can only deal with so much of that music.  I know.  A little harsh.
Thankfully, one band came along to carry the torch for those of us who didn't feel like pumping lyrical depression into our heads every day.  BOWLING FOR SOUP.  In 1994 they put out their first studio album and they've been pumping out gloriously irreverent music ever since.  Their latest offering, Drunk Dynasty, was released in October this year.  True to form, it's fun, it's well written, and it made me smile.
Dave Mustaine from Megadeth wrote, "Don't remember where I was, when I realized life was a game, the more seriously I took things, the harder the rules became."  Now, if you've ever listened to Megadeth, this apparently didn't stop him from taking things really seriously.  Phew. He was right though.  That's why I appreciate BFS and other bands like them.  They prove that you can deal with real subjects, things that could be depressing, in a tongue in cheek way without totally brushing off the importance of the subject matter itself.  You can only do this by maintaining perspective and always realizing that life as a whole is pretty absurd.
Wow, I almost started taking things too seriously there.
Oh, and,,,,,,,,, they recorded the theme to my favorite cartoon ever.  Phineas and Ferb.  The only kid show I'll watch without my kids.  That's a lie, I'll also watch Tangled whenever it comes on. I love Tangled.
Here are my top 5, most favorite, best ever, Bowling For Soup lyrics.
"She said she needed a break, A little time to think, But then she went to Cleveland, With some guy named Leland, That she met at the bank."  From the song-  Ohio
"We'll have to build a shelter, but I'll do at least half the work."  From the song-  Couple of Days
"It was so long ago, That feels so strange to say, How does eighteen years ago, Seem just like yesterday."  From the song-  Graduation Trip
"Dear Dad, You managed to turn your life around, Five separate times since you were born."  From the song-  Kevin Weaver
"I'm gonna take the dog and leave you with all of the bills, And find somebody else to love with marketable skills."  From the song-  Go To Bed Mad
If you are new to this band, and because of me and this little article, you take the time to listen to a few their songs, and you don't like what you hear.  You're wrong.
LINKS